GBR U19 Women 1997 European Championships The Hague Sept 2016
Full game schedule, GB in Group A: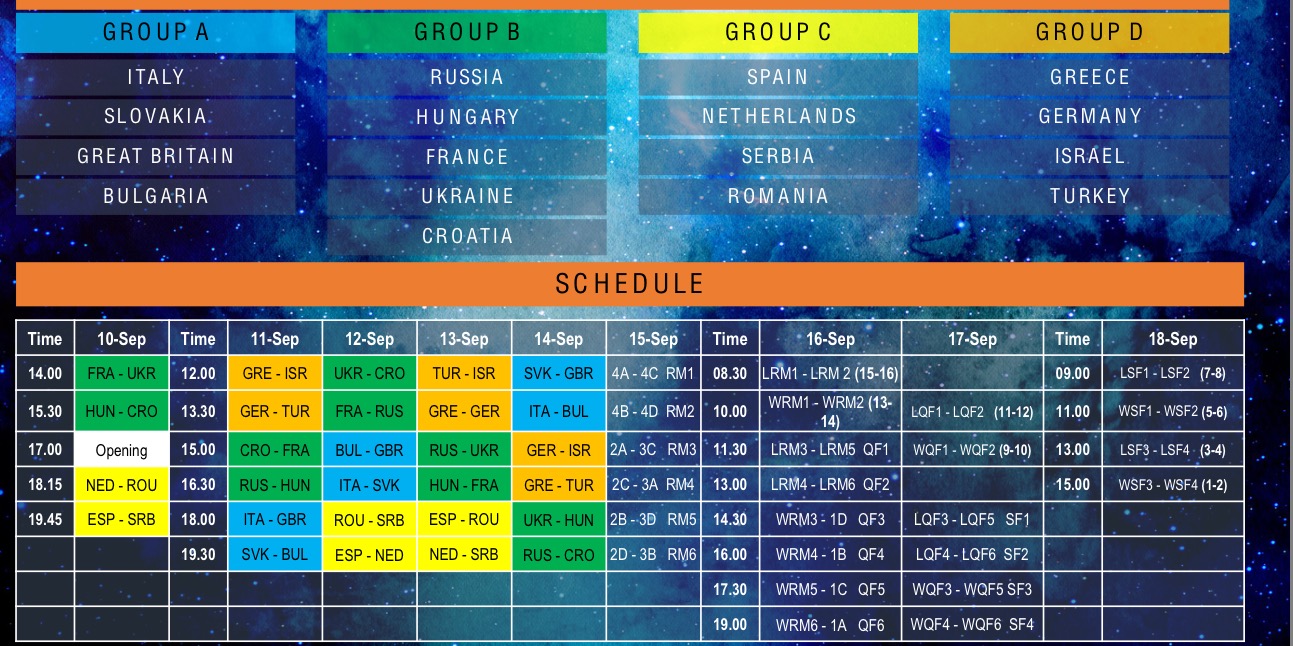 All our pics of the event are here
Game 1 GB v Italy 11 Sept 2016
Here is the match report from Great Britain's first game of the U19 European Championships in The Hague against Italy one of Europe's leading polo nations, with a very fast and effective counter.
Quarter 1 was Italy's with 4 unanswered goals, but Quarter 2 saw GB mount a stiffer challenge with great saves by Kate Read, and goals from Cecily Turner and Annie Clapperton, matching the Italian's 2 goals. Half time saw a score of 6-2 with GB still in the game.
After the break the Italians focused on their counter attacking game and they converted 4 quick goals with GB responding with Isobel Howe scoring on the Extra. Kate Read played a blinder throughout and pulled off a fine penalty save to keep the score at the end of Q3 to 10-3. The final period was marked by a beautifully judged lob from Cecily Turner showing maturity in front of goal and a stout performance by GB replacement keeper Sophie Jackson, with the final Score Italy 14 – GB 5
Coach Theo Nousios acknowledged the speed and awareness of the Italian side but was full of praise for his GB side, "For the first game our GB girls did very well and will now go on to get better and better. We plan to improve throughout the tournament"
After the game GB captain Rosie Huck said, "this was a great first game for us against a really tough Italian team. We did very well to get 5 goals against what is a very experienced side with much more match experience than we have. I am really happy with our start"
Final score Italy 14 – GB 5 (4-0, 2-2, 4-1, 4-2)
Scorers C Turner 2, Isobel Howe 1, Kathy Rogers 1, Annie Clapperton 1, Kate Read 1 penalty save
Check out pics from today's game at our flikr account https://flic.kr/s/aHskJ41KzR
The team is now looking forward to playing Bulgaria tomorrow at 3pm local time
Game 2 GB v Bulgaria 12 Sept 2016
GB dominate a young Bulgarian side in their 2nd pool game in the Netherlands
A bright start for GB in Q1 saw goals aplenty from the centre forward position with the GB Captain, Rosie Huck, netting a hat-trick and Annie Clapperton bagging 2 for a 5-1 GB lead.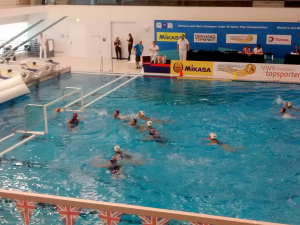 Period 2 was a reprise of Q1 with six more goals from GB answered by a single Bulgarian score.
GB defensive focus dipped briefly in Q3 allowing the Bulgarians to score 3 but there was no let up at the other end with GB putting 7 past the long-suffering Bulgarian keeper, and then Q4 saw 9 GB goals with a better defensive performance restricting the Bulgarians to 1.
Final score, GB 27 – BUL 6 (5-1, 6-1, 7-3, 9-1)
Scorers:
Rosie Huck 7
Annie Clapperton 5
Cecily Turner 3
Kathy Rogers 3
Robyn Greenslade 2
Isobel Howe 2
Beth Bolton 2
Izzy Dean 1
Katy Cutler 1
Hannah Edwards 1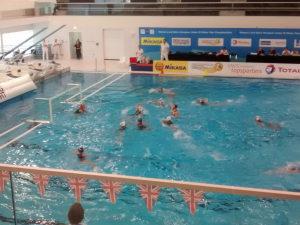 After the match Balasz Kis, Assistant GB Coach was pleased with what he saw: "We set the girls performance targets for this match against Bulgaria which they achieved. Although there were periods during the game when our tempo dropped off, in the end we delivered a better goal difference against the Bulgarians than the Slovakians achieved and this was pleasing. Our players performed well together with goals spread across the team, and we look forward to delivering against Slovakia"
2 goal Isobel Howe said, " the game went really well with good performances from everyone. We are going to watch the Slovakia-Italy game now and then look forward to playing our game against Slovakia in 2 days' time"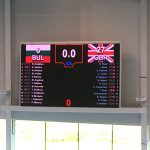 Match footage is available on the England Water Polo YouTube channel and pictures on Flickr
The team will spend the day tomorrow with a light training session in the morning and then reviewing match video footage in the afternoon. Their next and final pool game is against Slovakia at noon local time on Weds 14th. Once again we will be Periscoping the game live and tweeting @ENGwaterpolo
Game 3 GB v SVK 14.09.16
There were nerves aplenty as polo fans gathered in the outskirts of The Hague for GB's third and final pool stage game with much resting on the outcome. Lose the game and the top half of the table would be all but closed to GB, whereas a win would offer the prospect of a game against Serbia and a possible route to the upper echelons of the Championship.
Q1 saw a bright start from Slovakia who were shooting accurately from distance, netting 3 times with GB responding just once with a goal from Isobel Howe.
The second quarter was marginally better as the GB press began to function but Slovakia continued to widen the gap with 2 goals to GB's single effort, scored by Hannah Patchett, and the Slovakian fans were in good heart and voice as the first half closed with Slovakia looking comfortable at 5-2
GB managed to stem the tide in the third and there was a sense that momentum was beginning to swing in favour of the hard working GB team. Although GB's offensive game on extra was not going well, the team's defensive play was outstanding and when Hannah Patchett put away a stunning long range effort the margin remained at just 3 as the quarter closed 6-3.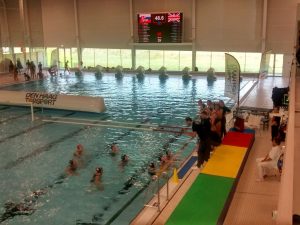 The final quarter belonged to GB as Annie Clapperton converted followed by Isobel Howe for her second of the game. The team then clawed its way back to parity with under 1:30 remaining on the clock as Izzy Dean scored with a near-post bouncer, before Annie Clapperton scored the last gasp winner in the final seconds.
Afterwards Coach Nousios praised the great character which the team showed in going from 5-2 down at half time to securing a 6-7 win and looking forward to the next match commented, "the Serbia game will be hard but if we show the qualities that we demonstrated in the final stages of the game today then we can win".
Team Manager Rosie Morris, highlighted the role of the leaders in the team who gave the rest of the team a confidence boost going into the second half of the game. One of those senior players, Vice Captain, Kathy Rogers identified that the win was down to a 100% effort from the whole team, "it was stressful when we went behind but Coach Nousios told us to keep concentrating and fighting to the end"
Scorers
Isobel Howe 2
Hannah Patchett 2
Annie Clapperton 2
Izzy Dean 1
Final score Slovakia 6 – GB 7 (3-1, 2-1, 1-1, 0-4)
GB's next game is against Serbia on Thurs 15th at 3pm local time. @ENGwaterpolo will be live streaming on Periscope and covering on twitter.
Game 4 GB v Serbia 15.09.16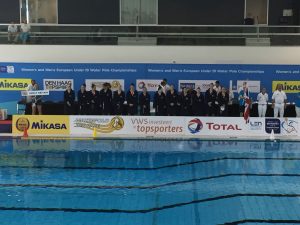 Spirits were high for the GB v Serbia match up following yesterday's last gasp win against Slovakia, but tempered by the knowledge that in the pre-Championship tournament honours were shared evenly 1 win apiece.
Very much a tale of 2 halves, GB opened their account in quarter 1 with goals from Izzy Dean and Katy Cutler to lead the Serbians 2-1
Quarter 2 was tighter but the single goal advantage to GB remained at the turnaround with Kathy Rogers converting twice, GB 4 – Serbia 3
The GB crowd was silenced by the Serbian tactics in the second half as their shooting from the arc proved devastating and GB were unable to replicate the Serbian accuracy at the other end. Three unanswered Serbian goals gave them momentum which was carried into quarter 4.
Despite Isobel Howe bagging 2 and Hannah Patchett converting a third, the Serbians continued to be clinical both on the extra and from the arc in open play, and emerged deserved winners.
Final score GB 7 – Serbia 12 (2-1, 2-2, 0-3, 3-6)
Scorers
Kathy Rogers 2
Isobel Howe 2
Izzy Dean 1
Hannah Patchett 1
Katy Cutler 1
Following the defeat Coach Nousios identified that under pressure some of the GB decision making was flawed, and there were lapses of concentration when we went man down which cost goals. Additionally, "on the day they had some big shots, but our big shots simply didn't go in. We will now re-group, prepare for our next game and work to secure the best position we can."
GB will now play Israel at 11.30am local time tomorrow Friday 16th before a final classification game on Saturday. All the scores as they happen on twitter @ENGwaterpolo and periscope.
Game 5 GB v Israel 16.09.16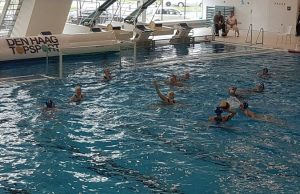 GB return to winning ways against Israel in their penultimate game of the 2016 European Junior Championships
A 3-1 opening quarter set the match up nicely for GB with Kathy Rogers finding the back of the net twice and a pleasing Extra goal scored by Izzy Dean.
Our shooting from distance was greatly improved in this game compared to earlier matches. Quarter 2 saw the inside of the posts being repeatedly targeted with precision by GB as five different players made their mark; Katy Cutler, Hannah Patchett, Kathy for her hat-trick, Cecily Turner and Annie Clapperton. Israel could not respond to a rampant GB and at the half, GB had clear water at 8-1.
There was perhaps a slight loss of concentration in Q3 with the quarter drawn 3-3; Rosie Huck converting 2 and Kathy adding to her total to reach 4 for the match, before the game drifted to its conclusion in the final quarter with the Israelis shooting from distance at every opportunity and occasionally sneaking one in, with only Rosie finding a way into the back of the net for GB to secure her hat-trick.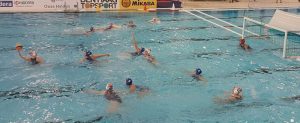 When interviewed after the game, Katy Cutler told us that everyone was disappointed after the loss to Serbia yesterday, but said, "I am really pleased that we came back so positively today. We are now looking for another win to secure 9th place tomorrow"

Team Manager Rosie Morris said, "The most important thing was that we got the job done, and it was also good to see us start well after going behind early on in other games. We got a bit complacent in the second half but the win was secured. Looking forward to our final classification game against Croatia, Rosie noted that, "We have trained with them over the summer and both sides are familiar with each other. It will be a close game but if we play like we did in the first half today then we will get the win."
Final score GB 12 – Israel 7 (3-1, 5-0, 3-3, 1-3)
Kathy Rogers 4
Rosie Huck 3
Izzy Dean 1
Hannah Patchett 1
Cecily Turner 1
Annie Clapperton 1
Katy Cutler 1
We are advised that the Organising Committee has amended the published schedule and GB's final game of these Championships – the classification game against Croatia for 9th – 10th position will now take place at 1pm local time Sat 17th.
We will of course keep you posted of any further changes, and will cover the game live on periscope and twitter @ENGwaterpolo
Image Credit GB v Israel: Donna Edwards
Game 6 GB v Croatia 17.09.16
GB secure 9th place at the European Championship with a controlled performance today in their classification game
A measured start by GB in Quarter 1 saw the Croatians convert early on to take the lead, followed immediately by an equalising lob over the keeper's head from Isobel Howe. End Q1 GB 1 – CRO 2.
Lifted by the large (and vocal) travelling GB support in the stands, the tempo of our game picked up significantly in the 2nd quarter.
Hannah Patchett scored twice, once from Extra to equalise, and then a pinch (a goal scored precisely in the top corner where bar and post meet) from 8m. Buoyed by the Patchett, Isobel Howe and Izzy Dean exchanged multiple passes before Isobel H converted her second of the game, and Katy Cutler then went in at the near post. The half closed with GB in control and ahead on the scoresheet 5-3.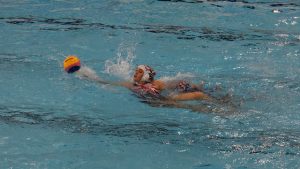 Q3 opened with a precise pass from the Scottish leftie Hannah Edwards into pit, which Captain Rosie Huck despatched with ease, while at the other end Sophie Jackson was making some excellent saves from Croatian long range efforts. Kathy Rogers added her name to the score sheet maintaining the differential with a tied third quarter 2-2.
GB's well drilled and executed defence ensured a no score 4th as the Croatians could find no way through. Deserved winners of the match, GB finish 9th in Europe.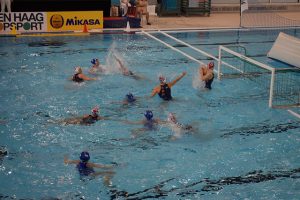 FT GB 7 – CRO 5 (1-2, 4-1, 2-2, 0-0)
Scorers
Hannah Patchett 2
Isobel Howe 2
Rosie Huck 1
Katy Cutler 1
Kathy Rogers 1
Many thanks from all the players and supporters to the Head Coach Theo Nousios, Assistant Coach Balazs Kis, TMs Rosie Morris and Fiona McCann, physio Anna Laws and psychologist Suzie Godfrey for their dedication and hard work throughout.
Great job guys – we are very proud of you all!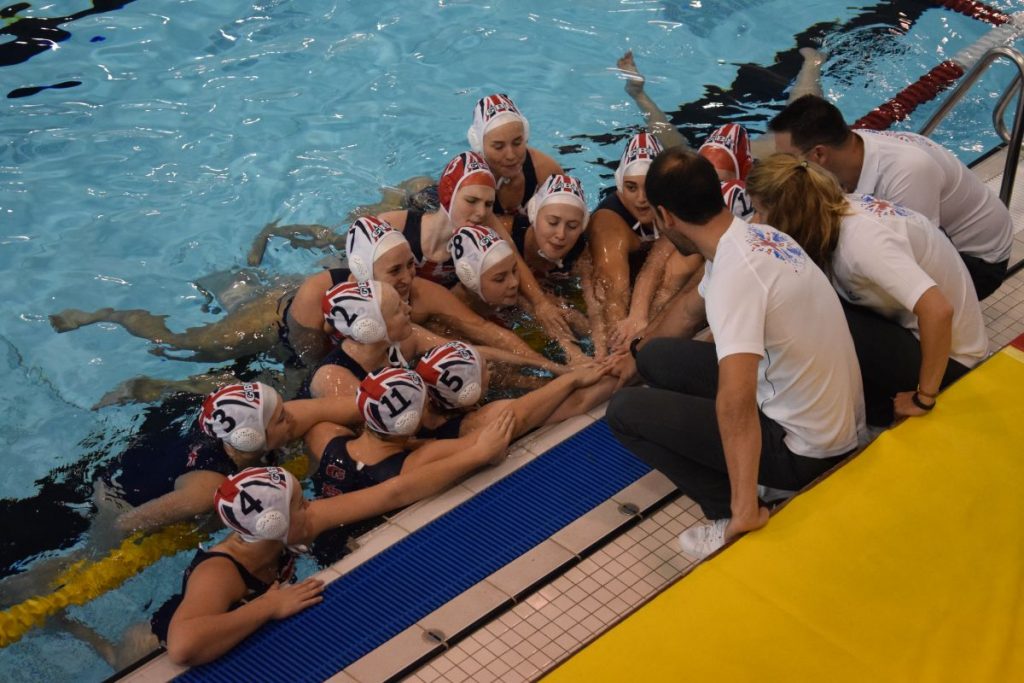 Image credit: Emily Dean